Back in Scholes
Post date

Reading time

2 Minute Read

Categories
Well, that's it, I'm back for good. It feels very strange to think I won't be going back to Durham again! That's not entirely true; I'll be back for the start of next term to sort out the changeover of the HBMC, and then there'll be Claire and my graduation in January, but it won't be the same!
So much has been going on since I last posted — in fact, that's why I haven't had chance to post. Since then, we've had the Summer Ball, which was a bit of a washout, but still managed to be a great laugh if only for the people there; there was a rather drunken Going Down Formal that ended up in Walkabout; also paintballing and, of course, the respective graduations.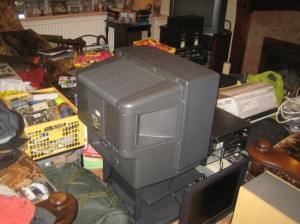 It took me three car trips to get all my stuff back home. For those of you who couldn't believe I have that much stuff, remember that I took up a trailer in second year, and have since taken more and more stuff each time I've gone back. Take a look at the photo if you don't believe me!
Now that I'm back, it's time for the usual — Angel? Check! Jinnah? Tonight!